Ballpark Vote
---
---
I created a website called BallparkVote.com, a site that allows Oakland A's fans, Bay Area residents, and citizens in general who take interest in baseball and/or land use planning to vote where they believe the Oakland A's should pursue building a new ballpark.
The A's currently play at O.co Coliseum, arguably the worst stadium in Major League Baseball. The stadium is old and ugly, suffers from maintenance issues, and fails to attract fans. Since 2004, the owners of the A's have been looking into building a new ballpark somewhere in Northern California.
Ten years have passed since initial talks of building a new ballpark, and the A's are no closer to having a new stadium. But there have been plenty of ideas, proposals and stadium renderings. This is where BallparkVote.com comes in.
Here's how the site works:
The site lists all the proposals, ideas and ballpark renderings of where the A's should move to.
You can upvote all the proposals you like. No downvoting.
Let's see what ballpark/location has the most fan support.
Obviously, the site doesn't provide too much insight to the A's and MLB. The issue if far more complex than what the fans want. There are so many barriers in building a new ballpark that are much beyond my and most of the public's understanding. This is why, after 10 years, the A's still have failed to make plans for a new stadium or to relocate.
Nevertheless, the idea with BallparkVote.com is to help popularize the dilemma, get people engaged with the issue, make it (somewhat) fun and interactive, and provide a little insight in what people most want out of a new A's ballpark. While the A's and MLB have likely done plenty of market research already and are not that interested in fans' ideas and desires anyhow, it never hurts to get more people engaged.
The site launched publicly on Tuesday, May 6th. Three weeks since (May27th), the site has collected over 1,200 votes, validating that people do care, and they want to be part of the relocation process.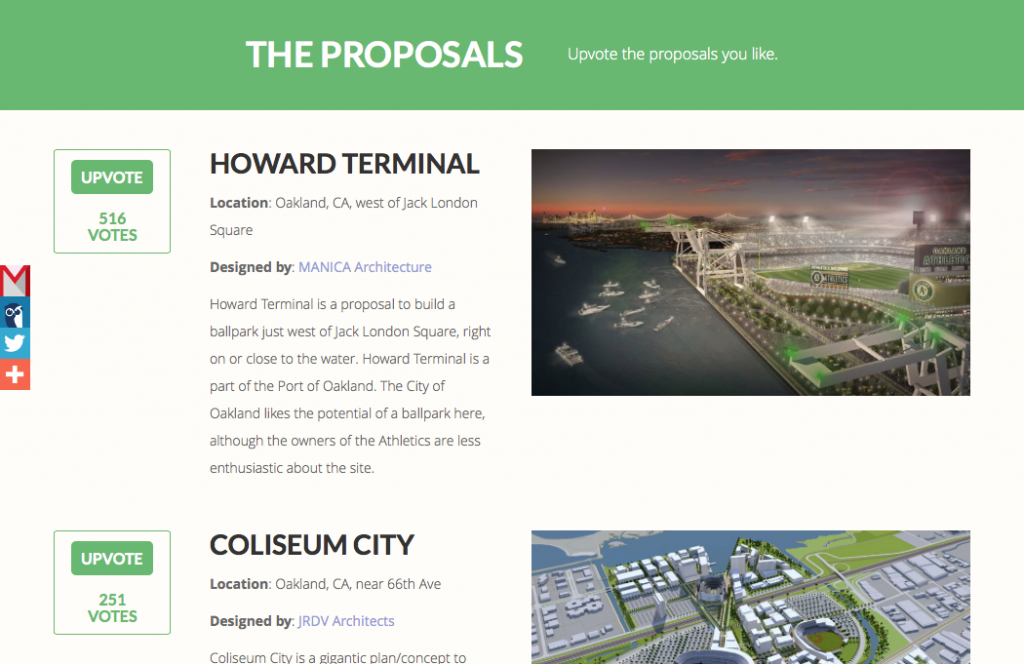 The ultimate goal in any grassroots effort surrounding the ballpark dilemma is to see the A's get a new ballpark. Whether increased fan engagement on the issue helps or not, it certainly doesn't hurt.
For a more in-depth look at this project, see my blog post on the project.
The website was made possible by the help of others, too:
Karl Schumann, who coded the entire voting functionality on the site.
Claire Dierksen, who designed the logo and some of the graphic elements on the site.